Macramé Rainbow Version 1
"The way I see it, if you want the rainbow, you gotta put up with the rain." 
Dolly Parton said it best, am I right?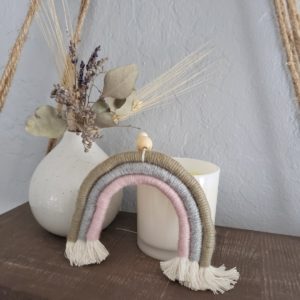 Macrame rainbows are so fun to make and depending on your preference you can make them quickly or take a little more love and time. There's no wrong answers here. There are SO MANY variations of these rainbows and I'm only providing TWO of the, dare I say, hundreds of ways to do these rainbows. 
Add tassels to your rainbows or pompoms to make clouds! You can have small earring rainbows, nursery banner or mobile, sew rainbows onto your weaving, make keychains – I mean, the list could go on and on!!
I would LOVE to see your rainbows – share with me on Instagram using hashtag #easypeasymakers
⋒ Please read through all the instructions before starting. This is to understand the general steps to prepare for.
⋒ Depending on the individual, you can have two arches or more. You can use different colors or create patterns like creating an "X" or use different material for the wrapping portion (ie ribbon or fabric).
⋒ Based on the thickness of your arches, you may need a thimble to help push the needle through when you're at the final stages. It'll save your fingers. 
⋒ Check out version 2 of rainbows – you can mix and match how you want to complete the rainbow (needle/thread vs. glue)
⋒ You can incorporate wire into your arches to keep its shape as well. 
⋒ HAVE FUN!!