I have learned that macramé and plant care go hand in hand. You can't find a plant lover that doesn't own at least one macramé plant hanger. 
Plant hanger DIY is coming up soon but in the meantime, I've got a way for you to spruce up your electric cords around your house! I made this especially for my plant light and instead of a black boring cord climbing up the wall, I've got this beautiful olive green cord.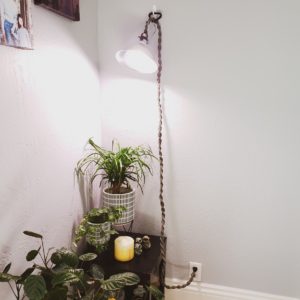 You can do this for electric cords for your wall lamps by your bedside, or even use smaller sized cord and wrap your lanyard, dog leash, etc. 
Share with me your projects on Instagram using hashtag #EasyPeasyMakers
Happy Knotting!
⋒ Please read through all the instructions before starting. This is to understand the general steps to prepare for. 

⋒ Spiral knots are around 1:15 ratio with a 4mm cord. This means for a 1″ of a spiral knot, it uses around 15″ of cord. (Around 6 individual knots made 1″ length)
⋒ Filler cords are cords that you knot ONTO, while as working cords are used to create the knots. In this guide, the electric cord is the filler cord. 
⋒ Key things to remember:
– You can always untie and redo.
– Use rubber bands to keep your extra long macramé cords rolled up for easy knotting.
– Be careful in pulling out extra length from your cord bundles as it can get tangled and you may have to rewrap the bundle.