The clove hitch knot is one of the most versatile knots in macramé designs. There are four main styles of clove hitch knots:
⋒ Clove Hitch Knot from left to right
⋒ Clove Hitch Knot from right to left
⋒ Vertical Clove Hitch Knot (current page)
⋒ Horizontal Clove Hitch Knot 
Clove hitch knots are used in many different patterns to create designs like flowers, leaves, geometric shapes, separators, and so much more.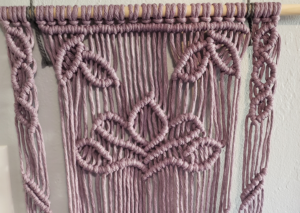 Once you learn all four styles of clove hitch, you'll be able to come up with your own design. Or use one of my patterns to practice! Try out the Semi Circle pattern or the mini hanging pattern. I'll be posting a Valentine's vertical pattern soon!
Share your macramé designs using these knots with me on Instagram using hashtag #easypeasymakers